As the world of blockchain and NFTs expands and companies approach them, the demand for a method to safeguard ideas, names, and logos in this space grows.
The metaverse has grown rapidly since its inception, but little attention has been paid to trademark applications until recently, when more people began requesting patents for various projects connected to this trending topic.
According to the Law Office of Michael Kondoudis, a USPTO-licensed trademark and patent attorney, trademark applications relating to the metaverse and non-fungible tokens (NFTs) have increased significantly in recent years.
This article aims to show you how the interest in the metaverse and NFTs has grown over time among big and emerging companies by analyzing the trademark applications submitted between 2020 and 2023.
The numbers shown in this article are based on information collected from the US Patent and Trademark Office (USPTO). The USPTO is a federal office that issues patents for inventions, trademark registrations for logos and brand names, and copyright registrations for creative works.
Statistics on NFT trademark filings
As of September 2023, the United States Patent and Trademark Office (USPTO) has received a total of 12,079 trademark applications that incorporate or relate to NFTs.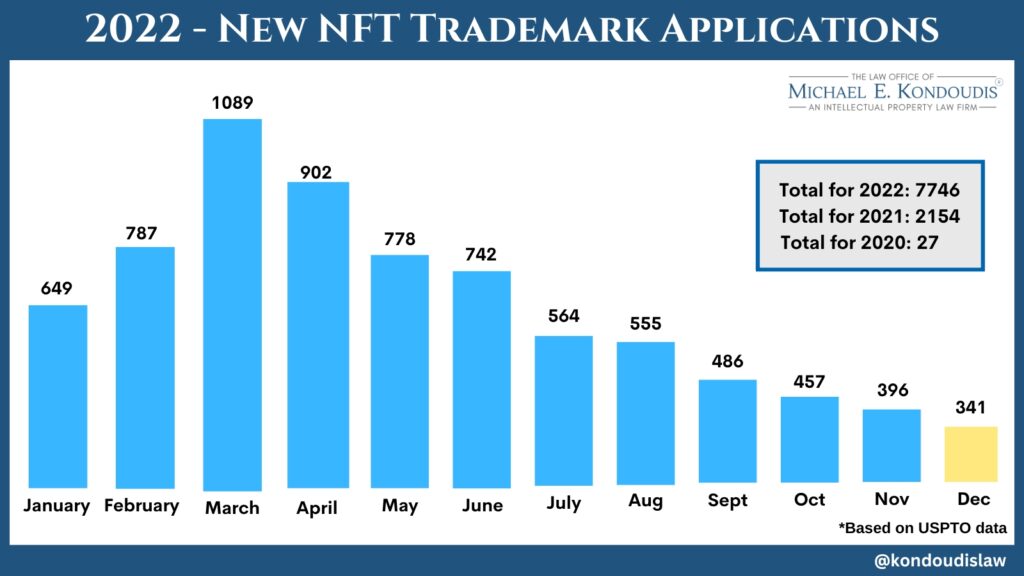 The number of new 2023 US NFT trademark applications – 2,152 – is down more than 60% from 2022.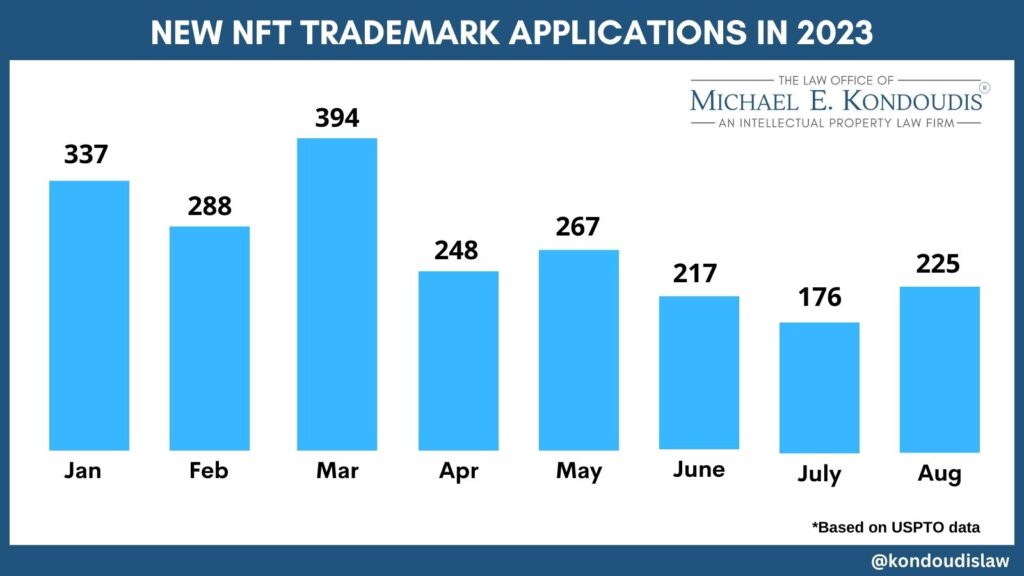 The USPTO received 2,154 trademark applications in 2021, compared to only 27 in 2020.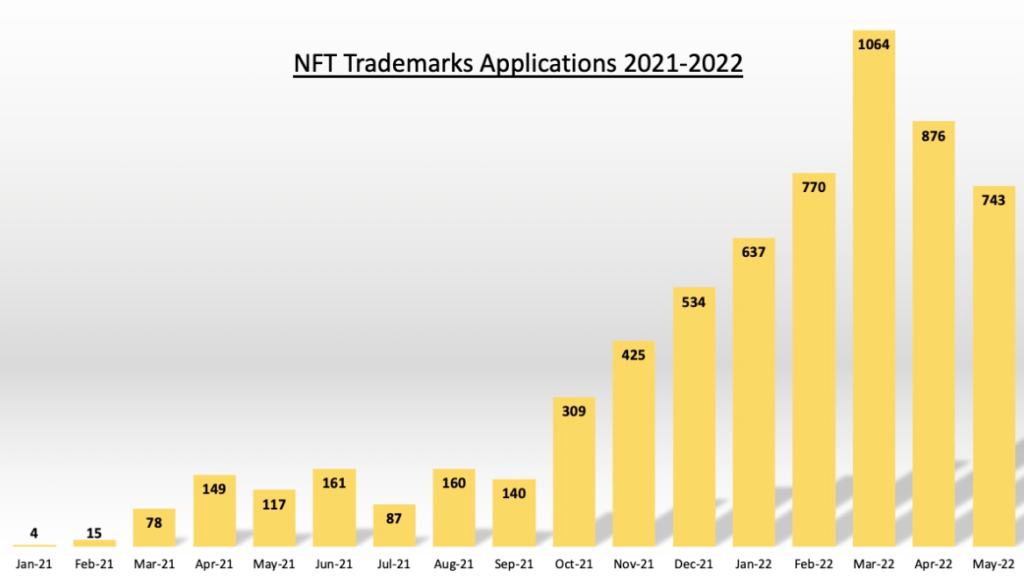 There have been a total of 6,287 NFT-related patent applications filed from January 2020 to May 2022, with the highest number (1,064) filed in March 2022.
Statistics on metaverse trademark filings
So far, the USPTO has received 11,025 trademark applications for metaverse and/or virtual products and services.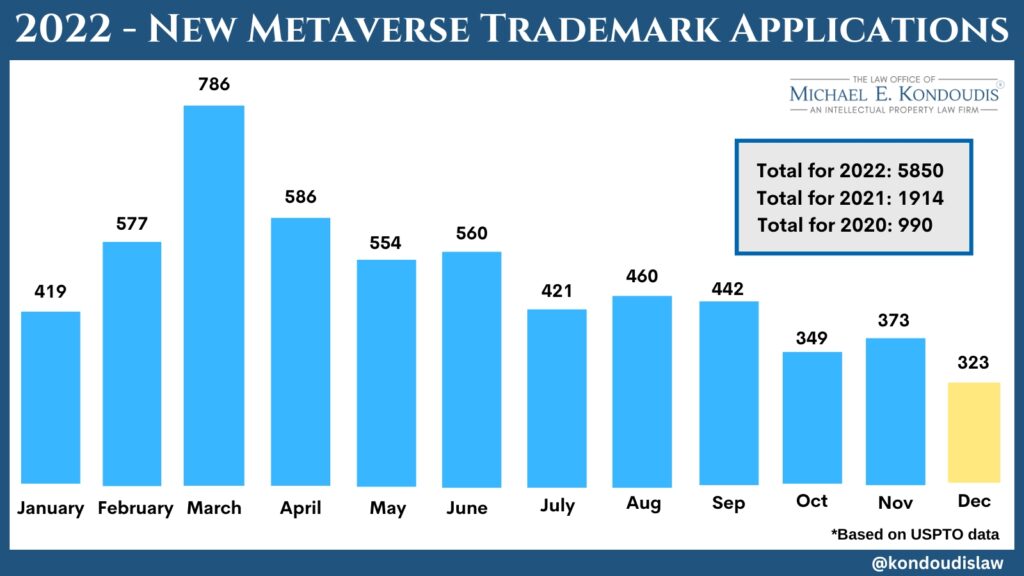 The number of new 2023 US Metaverse trademark applications – 2,271 – is down more than 50% from 2022.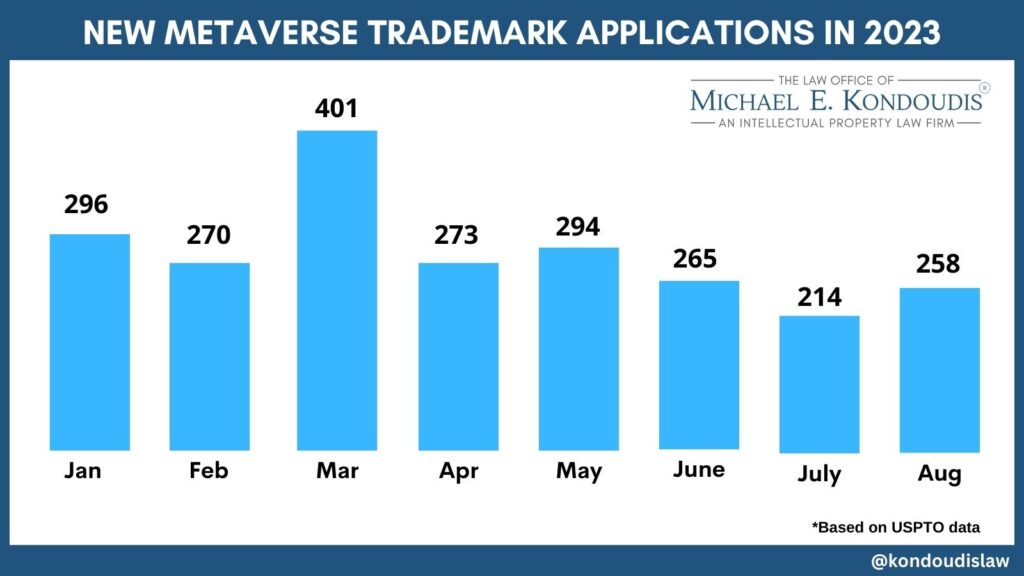 In 2021, the USPTO received 1,798 trademark applications, as opposed to just 155 in 2020.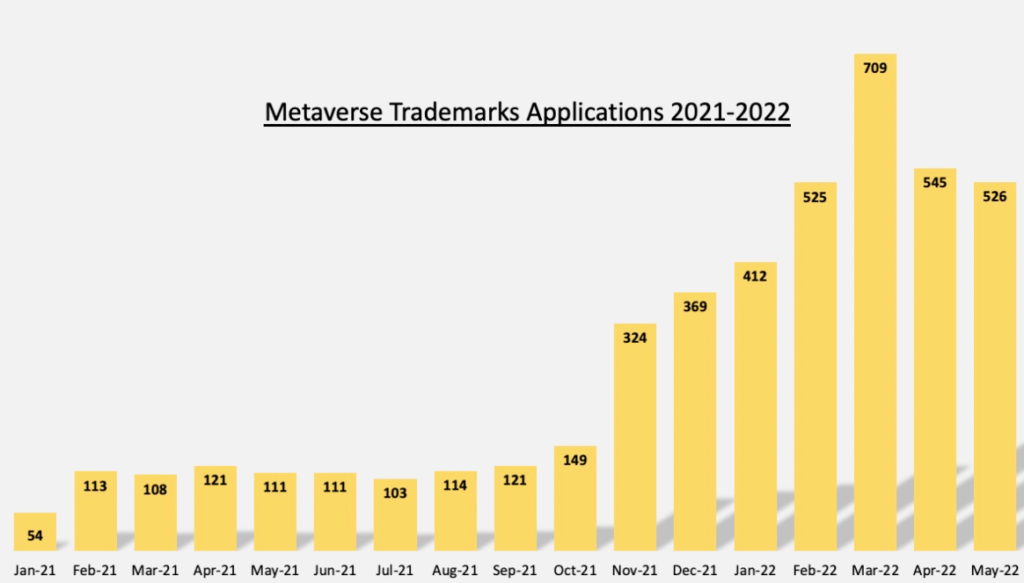 There have been a total of 4,670 metaverse-related patent applications filed from January 2020 to May 2022, with the highest number (709) filed in March 2022.
Why all these statistics are important
In just two years, the number of metaverse and NFT trademark filings has increased by nearly 100 percent. This suggests a surge in interest in the new virtual world and digital assets, putting to rest all fears of a bubble burst.
Companies are attempting to jump on the bandwagon in order to stay ahead of the competition and gain market share.
Many major brands have already taken steps down this new route. We'll look at some of the most important ones in the section below, grouped by sector.
Examples of big brands that submitted NFT and metaverse trademark applications in 2022
Fashion
Many fashion tycoons, including Hugo Boss, Tommy Hilfiger, Levi's, Champion, and Versace, recently filed trademark applications to enter the metaverse and embrace the world of non-fungible tokens (NFTs).
According to the applications, these companies seek to deliver new and interesting immersive experiences to their customers by offering virtual goods such as clothes, footwear, and headwear, as well as virtual spaces where people can socialize and establish communities.
Many of them also indicated plans to build and provide users the opportunity to participate in virtual fashion shows, such as Decentraland's Metaverse Fashion Week, which featured major fashion companies like DKNY, Hugo Boss, Dolce & Gabbana, and many others.
Food
The metaverse food sector is evolving quickly as more brands recognize the tremendous potential of the technology. It's attracting a lot more attention, with a slew of big food companies such as McDonald's and Panera Bread entering the market with interesting virtual offerings.
Starting with leading food companies submitting trademark applications related to NFTs and metaverse, others are following suit.
Here are some examples:
Hooters, a restaurant known for its scantily clad waitresses and comfort food, has applied to enter the metaverse with a virtual location of their real-world establishment. Hooters' metaverse location will combine real-world and virtual food and home delivery services, allowing users to order from the restaurant in any world and get exactly what they ordered at their doorsteps.

Taco Bell, the American-based fast-food chain, has filed trademark applications for its name and logo to be used across virtual reality platforms. The company plans to open virtual restaurants and provide home delivery in the real world, where users can earn points to use for real-world purchases.

KFC, the second-largest chain of fast-food restaurants after McDonald's, is trying to get into the metaverse as well. The company has applied for trademarks to sell food and drink items online, just like they do in the real world.
Other Food brands that filed trademark applications to enter the Metaverse are:
Entertainment
Companies such as Meta, Tetris, magazine Playboy, World Wrestling Entertainment (WWE), and Marcus Lemonis' Production Company for "Let's Make a Deal" have filed a trademark application that allows them to produce and sell electronic art.
Mark Zuckerberg's firm is opening a physical store, "The Meta Store," in Burlingame, California. It allows people to get a preview of the new virtual reality, by letting them test the company's hardware devices like its virtual reality headset Quest 2 and smart glasses Ray-Ban Stories.
The entertainment industry is also seeing a growing interest in virtual and augmented reality from superstars. Celebrities like David Beckham, Heidi Klum, and Billie Eilish are actively developing projects for the metaverse and NFTs. They have already filed trademark applications to achieve this goal.
Real estate
DAMAC Group, NTRY, and DecentWorld also plan to enter the metaverse with virtual homes and real estate.
A plan is underway to offer their house buyers virtual reality (VR) and augmented reality (AR) experiences, giving them the opportunity to view houses virtually, without having to commute to see them or only if they're interested after the first glimpse.
Wrapping up
Although there is still a lot of ambiguity about the future of the metaverse and NFTs, we can't ignore the reality that the sector is developing and companies are trying to acquire a piece of it.
Statistics and descriptions of trademark applications submitted thus far provide concrete evidence of this.
Taking the trend into account, we expect an increase in these submissions in the following years.