The term "metaverse" has gained popularity, and with it, a multitude of opportunities have emerged in various industries. The retail sector is no exception to this trend.
Many brands — ranging from industry giants to small businesses — are now making forays into the metaverse by establishing their own branded virtual stores. Their primary goal is to tap into the potential presented by the metaverse and, in the process, capture the attention of the new generations of consumers.
However, ‌not everyone views the metaverse with unbridled optimism. Some skeptics have questioned its practical utility, dismissing it as a fleeting trend with little substance.
This leaves many brands at a crossroads, prompting them to ponder a crucial question — Can a virtual store within the metaverse genuinely serve as a means to expand a business?
In this article, we'll outline ten reasons to consider opening a virtual store in the metaverse and explore five use cases while also shedding light on the differences between these stores and conventional e-commerce platforms.
What exactly is the Metaverse, and how do virtual stores fit into it?
The metaverse is a digital universe that combines aspects of virtual reality, augmented reality, and the internet to create a shared, immersive, and interactive virtual space. Within this space, users can engage with a 3D virtual environment and items and interact with each other.
Virtual stores within the Metaverse are online retail spaces established within this digital landscape. These stores mimic physical retail locations, but they exist entirely digitally. Customers can access these stores using avatars or digital representations of themselves and interact with virtual products or services.
The shopping experience in these stores is typically 3D and interactive, offering a more engaging and immersive experience compared to traditional e-commerce websites.
What's the Difference Between an E-commerce and a Metaverse Store?
Many individuals have been pondering how a virtual store differs from a typical e-commerce platform and have often struggled to identify the strengths of the latter.
Although an e-commerce store may complement a virtual store for transactions, significant differences exist between the two.
Here are some of the key differences between e-commerce and virtual stores.
Medium and Environment
The first difference between e-commerce stores and metaverse stores lies in their environments: e-commerce stores operate in a 2D space, while metaverse stores exist in a 3D realm.
E-commerce Store: An e-commerce store primarily exists as a 2D online platform. Customers interact with text, images, and occasionally videos to browse and buy products.

Metaverse Store: In contrast, a metaverse store operates within a 3D, virtual, and immersive environment. This environment can be accessed through virtual reality (VR), augmented reality (AR), or 3D-enabled platforms and devices.
Shopping Experience
Another key factor that distinguishes e-commerce from virtual stores is the shopping experience provided to customers.
E-commerce Store: Shopping in an e-commerce store is traditional and two-dimensional. Customers view product listings, read descriptions, and make purchases using a standard shopping cart system.

Metaverse Store: Metaverse stores provide a more immersive and interactive shopping experience. Customers can interact with products in 3D and 360°, and even visualize products on their avatars.
Community and Social Interaction
Social interaction is another significant difference between virtual stores and e-commerce sites.
E-commerce Store: E-commerce stores often lack features for social interaction. While customers can leave reviews and comments, the interaction is typically limited to text-based communication.

Metaverse Store: In contrast, metaverse stores promote social interaction. Customers can interact with other shoppers, attend events, engage in virtual gatherings, and even socialize within the digital environment using chat functions.
Virtual Goods and Assets
E-commerce is typically limited to selling physical or digital products. In contrast, virtual stores offer a broader range of products.
E-commerce Store: E-commerce stores primarily sell physical goods. They may offer digital products like e-books or software, but transactions mainly involve buying and receiving physical or digital items.

Metaverse Store: Metaverse stores can sell both physical and digital products, focusing on virtual goods. These may include digital fashion items, virtual real estate, in-game assets, and NFTs (non-fungible tokens).
Monetization Opportunities
Monetization options differ significantly between e-commerce and virtual stores.
E-commerce Store: E-commerce relies on product sales, subscription models, or advertising for revenue.

Metaverse Store: Metaverse stores offer various monetization methods, including virtual property sales, virtual event ticket sales, and the creation and sale of virtual assets and collectibles.
Technology Requirements
Lastly, the technological requirements vary between e-commerce and virtual stores.
E-commerce Store: E-commerce stores require a standard web infrastructure, including web hosting, databases, and e-commerce platforms.

Metaverse Store: Metaverse stores make use of metaverse platforms that often incorporate VR/AR technologies, 3D modeling, and other immersive technologies.
10 Reasons to Open a Virtual Store in the Metaverse
After defining the differences between virtual stores and e-commerce platforms, it's crucial to explore the opportunities the former offers.
Here are ten reasons that make virtual stores a valuable and viable business extension for merchants.
Immersive Shopping Experience: The metaverse allows customers to explore 3D virtual stores, enhancing engagement and providing a more immersive shopping experience.
Social Interaction: Virtual stores in the metaverse enable social interactions, such as shopping with friends, attending virtual events, or meeting other customers in a shared virtual space.
Personalized Avatars: Shoppers can create personalized avatars to represent themselves in the metaverse, fostering a more personalized and interactive shopping experience.
Gamification: Incorporating gamified elements, such as quests, challenges, and rewards, makes shopping in the metaverse more entertaining and engaging.
Virtual Try-Ons: Metaverse stores can offer virtual try-ons for products like clothing and accessories, allowing customers to see how items look on their avatars.
Real-World Integration: Metaverse stores can seamlessly integrate with real-world services, such as virtual showrooms for car shopping or virtual real estate tours.
NFTs and Digital Ownership: Unique digital assets, such as NFTs, grant customers true ownership of virtual products and limited-edition items, creating new opportunities for collectors.
Virtual Currency and Cryptocurrencies: Metaverse stores can employ virtual currencies or cryptocurrencies for transactions, providing new payment methods and economic systems.
Virtual Events and Conferences: Metaverse stores can host virtual events and conferences, expanding their reach and potential customer base.
Creative Branding Opportunities: In the metaverse, brands can experiment with creative and unconventional marketing strategies, allowing them to stand out in a futuristic and dynamic environment.
Examples of brands that have opened a virtual store in the metaverse
For a more practical perspective, here is a list of five brands that have ventured into the metaverse by launching their virtual stores.
Lacoste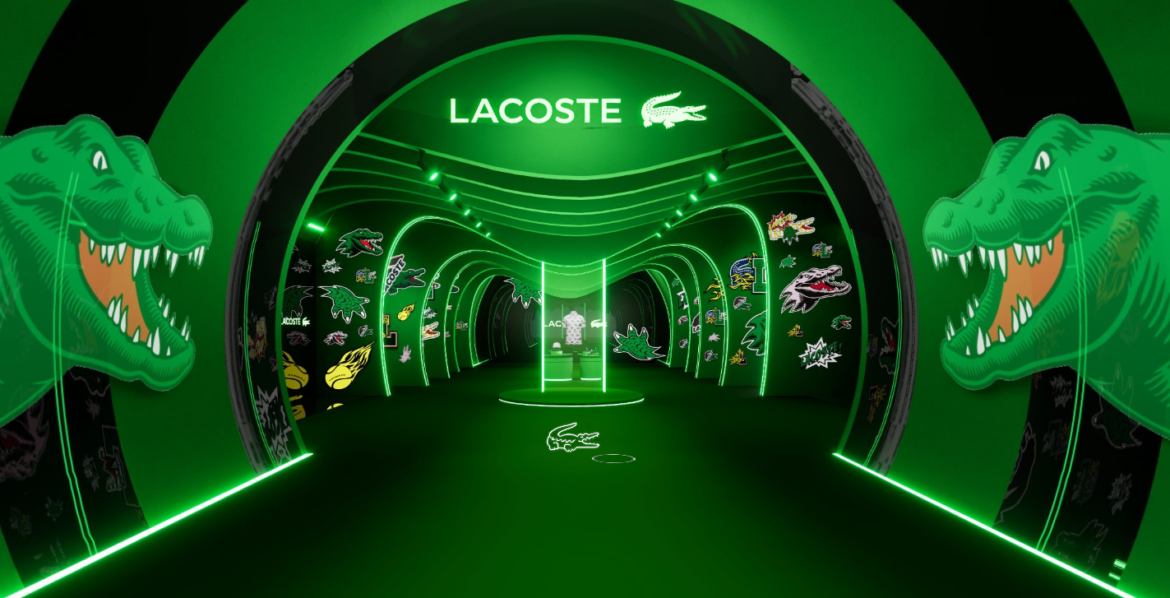 In 2022, Lacoste joined forces with the Web3 development company Emperia to introduce its own virtual store within the metaverse. This virtual store enabled visitors to browse through a range of clothing items from Lacoste's latest collection, including t-shirts, sweaters, and accessories.
When consumers clicked on a product within the metaverse, a pop-up window appeared, providing direct access to the product's eCommerce webpage for easy purchasing. Furthermore, the virtual space featured an exterior area with two prominent displays on the sidewalls, showcasing Lacoste's advertising campaigns.
L'Occitane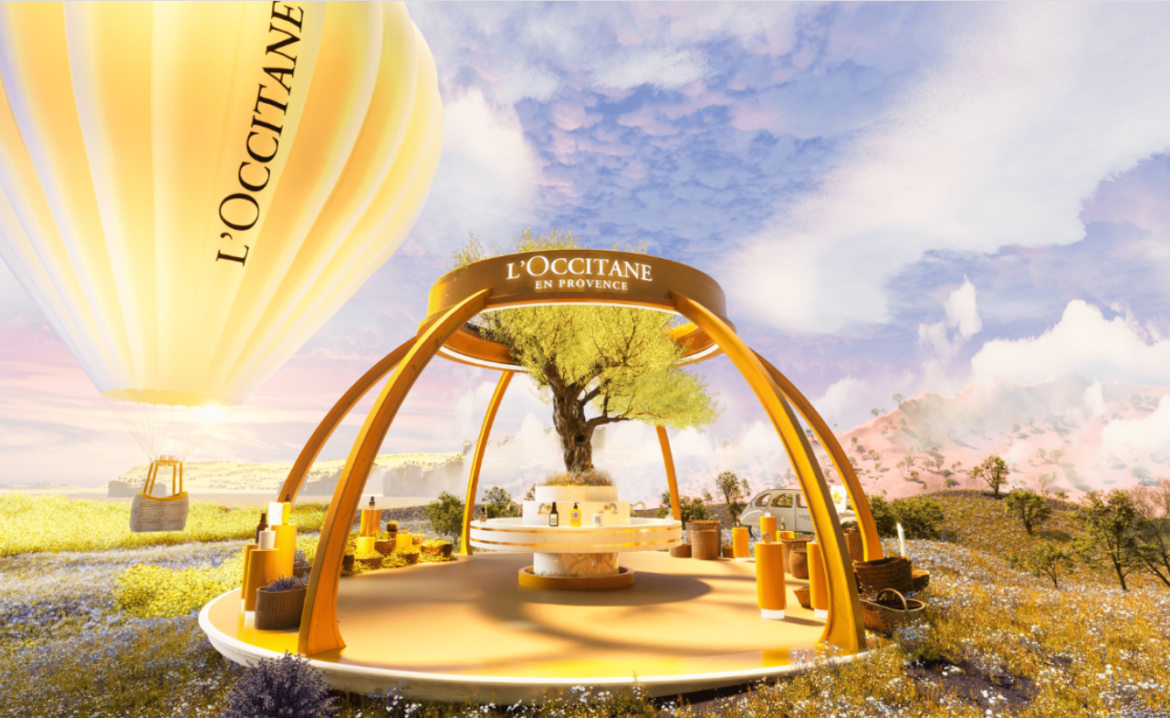 In July 2023, L'Occitane inaugurated its first virtual store. This virtual store aimed to offer users an immersive experience that not only celebrated L'Occitane's rich heritage but also educated them about the brand's extensive range of products and the ingredients the brand uses.
Within this virtual realm, users had the opportunity to explore four of L'Occitane's iconic scents: Lavender, Almond, Immortelle, and Shea Butter. Each scent had its own virtual space, complete with a thematic environment that captured the essence of the fragrance. For instance, the Lavender section featured a charming wood-themed store nestled amidst a picturesque lavender field.
In addition to this sensory journey, L'Occitane's virtual store integrated a shopping experience. Users could browse through virtual products, access detailed descriptions, and even make purchases directly from within the metaverse.
Lindt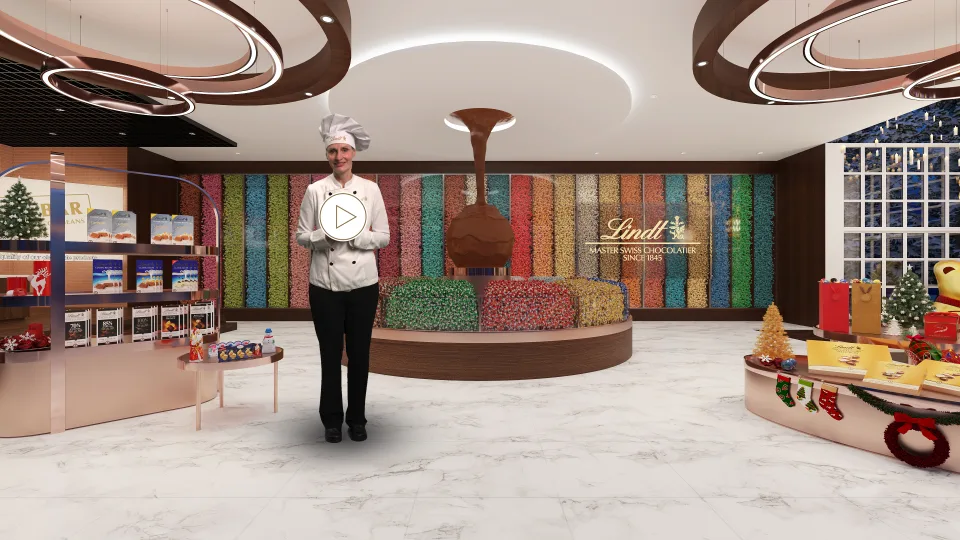 In 2022, Lindt unveiled an immersive 3D virtual store. This digital shop offered a display of Lindt's diverse chocolate offerings, featuring everything from boxes of Lindt chocolates to bars, truffles, and even a chocolate fountain.
During their virtual store tour, customers had the opportunity to select their preferred chocolates, add them to their shopping cart, and arrange for convenient home delivery.
Beyond the shopping experience, the metaverse space also hosted a zone known as the "Chocolate Lab," where visitors could delve into the intricacies of Lindt's chocolate production process.
Casio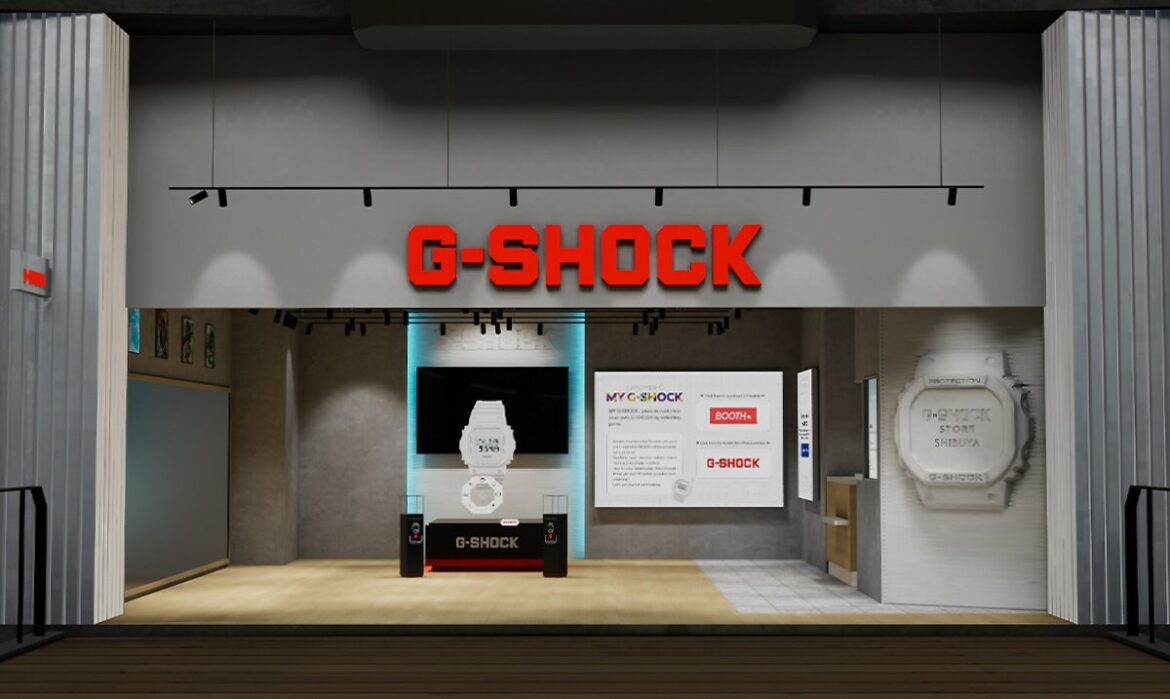 In October 2023, Casio took a step into the metaverse by unveiling its first virtual store, known as the "G-SHOCK STORE." This virtual shop allowed users to dress their avatars with G-SHOCK timepieces and explore the various styles and functions they had to offer.
Moreover, the metaverse store provided a customization option, empowering visitors to create their personalized G-SHOCK watches by mixing and matching different components.
Crocs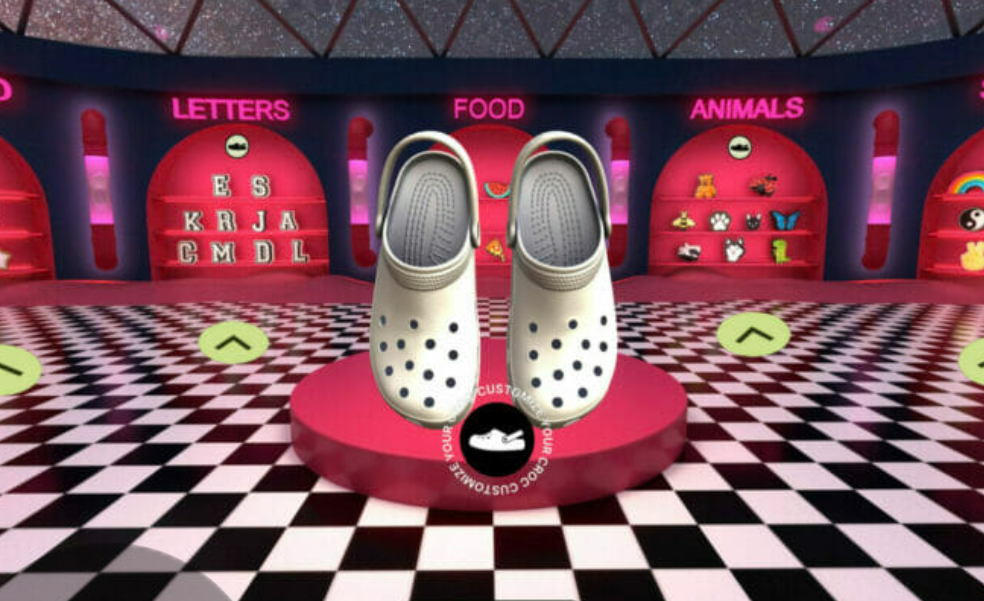 Back in June 2023, Crocs introduced the "Crocs Jibbitz Experience" virtual store, providing fans with a virtual journey to explore a wide selection of shoes and Jibbitz — the Crocs charms that add a personal touch to Crocs footwear.
This experience also gave users the opportunity to access the 3D Jibbitz Customizer, allowing them to design their own one-of-a-kind pair of Crocs adorned with Jibbitz charms, which they could then purchase directly from the virtual store.
Additionally, the experience featured an interactive game element. Visitors could engage in an arcade-style claw machine game, where they could collect virtual Jibbitz and even have the chance to win physical ones.
Conclusions
In conclusion, opening a virtual store in the metaverse presents unique advantages not found in traditional e-commerce. As the metaverse continues to evolve and expand, businesses that embrace this digital frontier stand to gain a competitive edge and tap into new and innovative ways of engaging with customers.