Franck Muller, the renowned Swiss luxury watchmaker, has today announced the launch of a selection of digital wearables and physical watches on the Binance NFT marketplace.
The series will kick off with the release of 'Mystery by Franck Muller,' an NFT Mystery Box collection with fantastic surprises. These mystery boxes may include:
Apple Watch faces– Franck Muller is the first premium watchmaker to create its own Apple Watch faces. The bespoke Franck Muller watch face will be available for the Apple Watch.

Physical Franck Muller timepieces – Buyers can get an authentic physical Franck Muller watch.

Metaverse wearable NFT watches – Buyers can obtain metaverse wearables that their avatars can wear in the metaverse.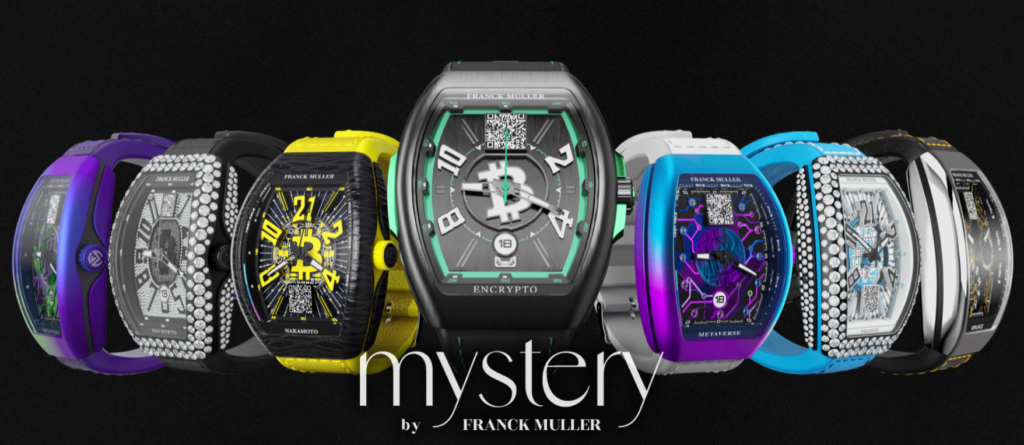 The Franck Muller Mystery Boxes are available in four different editions: Normal (N), Rare (R), Super Rare (SR), and Super Super Rare (SSR). The higher the value of the box, the greater the probability of a rare reward for the buyer.
Holders of 10 or more Franck Muller Mystery Boxes will be able to redeem a whitelist slot in Franck Muller's future NFT avatar collection, granting NFT avatar holders Lux-Club membership access.
Franck Muller NFT Auction
In addition to the Franck Muller Mystery Boxes, Binance NFT will also hold an exclusive auction starting July 27, 2022. The auction winner will receive a unique NFT artwork as well as a one-of-a-kind physical Franck Muller watch.
The auction includes Franck Muller's one-of-a-kind artwork depicting Aoki Sloane, an early Bitcoin enthusiast, cryptocurrency trader, avid gamer, and a soldier of peace fighting the Harakuma warlords who threaten the burgeoning Metaverse.
For more information, visit franckmullerencrypto.com.