Vienna-based design boutique HFA–Studio teamed up with original creators Michael Girard, Robert Lurye, and John Chadwick to release the legendary Dancing Baby Loop from 1996 as a 1/1 edition NFT.
Dancing Baby story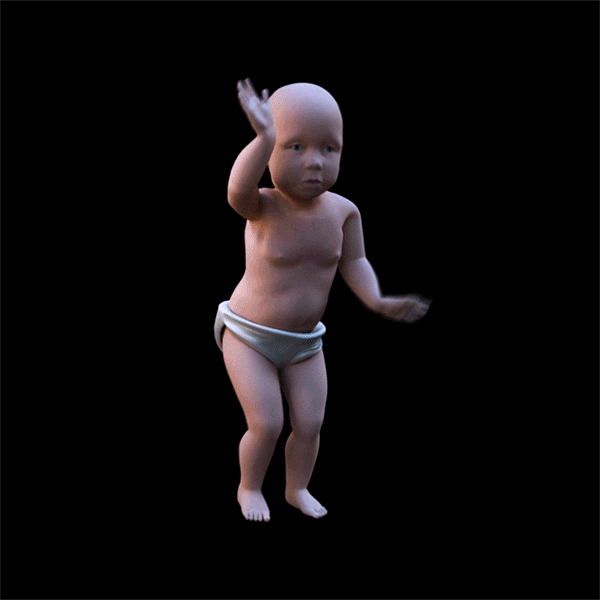 The Dancing Baby, popularly known as "the Oogachacka Baby," is a 1996 3D-rendered animation that soon became a cultural trend and is today regarded as one of the earliest viral movies in internet history.
The dancing infant symbolizes a historical milestone for social media sharing in 1996, when digital art production and distribution were only getting begun.
The original dancing baby harkens back to the initial enthusiasm, hope, and playful innovation that gave rise to the internet. It was an odd moment to be contemplating optimistic visions of what the internet may become.
The cha-cha phenomenon
The Dancing Baby appeared out of nowhere. The Dancing Baby spread like wildfire through email chains and websites, but it was its transfer to mainstream media and the larger entertainment sector that made it a cultural phenomenon.
The infant appeared in TV series such as Ally McBeal and The Simpsons, adverts for Blockbuster Video and Delta Airlines, video games such as EA Sports' FIFA 99 and Silent Hill 4, and even Charli XCX and Troye Sivan's 2018 music video for "1999." The Dancing Baby is still the unrivaled visual reference for online nostalgia.
The Dancing Baby turned into an NFT
More than 25 years after the Dancing Baby first went viral, the original creators and HFA Studio will release a digitally restored, smooth high definition 1/1 artwork by the Original Creators as NFT, so the Dancing Baby can shake its hips forever.
To put the original design in context, they enlisted the help of modern 3D artists and animators of a different age to "remix" the dancing baby. Artists and creators at the dawn of the web3 re-imagine the loop with their tools, much as the original creators did at the beginning of the web2.
Chris Torres, Kid Eight, Yonk, and others are among the artists included.
Memes and NFTs are the art form of the current generation. By owning the digitally restored loop by the original creators, holders will own part of internet history.
For more information, please visit https://dancingbaby.io/