The Golden State Warriors announced their second-ever NFT drop to commemorate the team's 2022 NBA Playoff run.
The Golden State Warriors 2022 Playoff NFT Collection comprises 3,000 NFTs, featuring 12 unique designs randomly assigned when minted on the blockchain on FTX US, the team's Official NFT Marketplace.
Each NFT has its own rarity level, as well as distinct utilities and perks. Each Playoff NFT is also a digital collectible that serves as admission to the GSW Discord group.
The Golden State Warriors 2022 Playoff NFT Collection will evolve as the team's playoff run progresses, allowing NFT owners to access additional features and rewards. Fans may unlock rewards such as NBA Finals tickets, signed memorabilia, Warriors NBA Championship Rings, extra NFTs, special apparel, and more based on the rarity of each NFT.
The Warriors Community Foundation, which has provided over $25 million in impact for Bay Area educational equity since its creation in 2012, will receive a percentage of all proceeds from the NFT Collection.
The Golden State Warriors 2022 Playoff NFT Collection will be available on the FTX US NFT marketplace on Friday, April 15 at 10 a.m. PDT. Each NFT will cost $499.99. To mint and take part in the 1-of-1 auction, fans must have an FTX US Account. Fans and bidders may view the entire collection of NFTs at gswnft.com.
Golden State Warriors 2022 Playoff NFT Collection
Warriors NBA Championship Banner (1-Of-1)
This one-of-a-kind championship banner NFT honors the Warriors' six NBA titles dating back to 1947. Along with the virtual championship banner, the owner of this NFT will also receive a one-of-a-kind physical banner.
Warriors 2015 NBA Championship Ring
This NFT honors the Warriors' fourth NBA title, which they won in the 2014-2015 season. The original ring has 240 valuable stones on the side of the ring to commemorate the 240 regular season and playoff victories, as well as 16 princess cut stones on the side to reflect the amount of 2015 playoff victories.
Warriors Hardwood Court NFT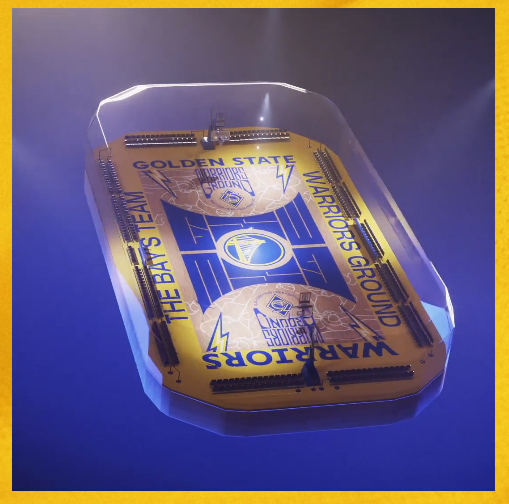 This NFT brings the Warriors home court to life in an inspired 3D branded art piece.
Warriors Logo Pin
This NFT honors the GSW franchise's evolution by displaying all of the numerous team logos from 1962 to the current days.
Warriors Hoop
This Warriors branded hoop celebrates the team's offensive threat year after year as a custom Warriors branded 3D art piece.
Warriors 75th Anniversary Diamond
To honor the Warriors' 75th anniversary, this NFT commemorates the team's franchise legacy of 10 final appearances and 6 NBA championships.
The Finale At Oracle (2019)
This NFT Commemorates the Warriors final game at Oracle Arena on April 7, 2019, in Oakland California. After 47 seasons, The Warriors won their last game at Oracle vs The Clippers with a score of 131-104.
Warriors First Championship (1947)
This NFT Commemorates Game 5 of the first-ever NBA Finals in history on April 22, 1947, in Philadelphia, Pennsylvania. This historic game solidified the Warriors as the first-ever NBA Champions and the franchise's first championship with a historic victory of 83-80.
Warriors Foam Finger
This GSW Foam Finger is an iconic token of Warriors fan's loyalty.