Puma has changed its Twitter handle to "Puma.eth". The company registered the domain name with Ethereum Name Service (ENS), a distributed and open naming system based on the Ethereum blockchain.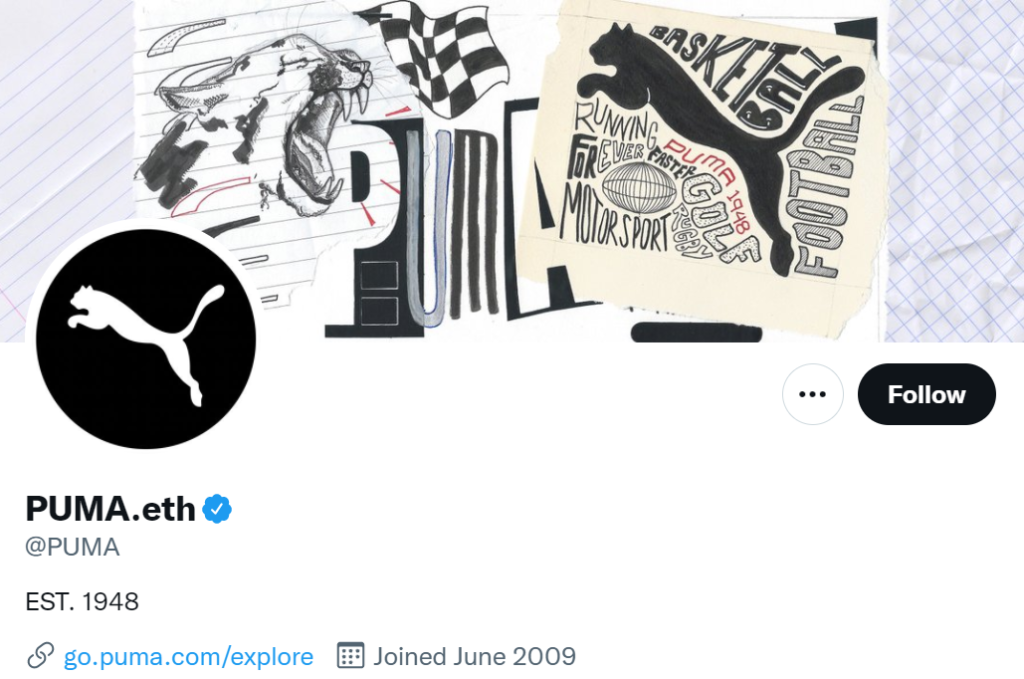 ENS names allow users to store addresses and receive any cryptocurrency, token, or NFT, eliminating the need to repeatedly copy and paste long addresses.
According to the official ENS Twitter profile, Puma is now ranked 13th in the top 100 most followed Twitter accounts with an ENS domain name, after registering this domain name.
welcome PUMA.eth (@PUMA) 🤝 https://t.co/BuPplzfJgR

— ens.eth (@ensdomains) February 21, 2022
It seems that this move clearly shows Puma's interest in cryptocurrencies and non-fungible tokens (NFTs).
It is also evident from the recent investments the company made on OpenSea, by purchasing feline-themed NFTs from Cool Cats NFT, Lazy Lions, Gutter Cat Gang, IlluminatiNFT, and CatBlox.
The cat's out of the bag…@PUMA @ivandashkov #M3OW pic.twitter.com/lB8WU9EhJO

— CatBlox (@CatBloxStudios) February 21, 2022
Puma may be following in the footsteps of other sportswear global brands like Nike and Adidas, which are already deeply involved in crypto, NFT, and the metaverse.
In December, Nike acquired RTFKT, a premier brand that produces NFT sneakers and collectibles, and launched Mysterious "MNLTH" NFT earlier this month.
After entering the metaverse in December, Adidas launched its first full-fledged NFT collection that totaled $23 million in sales and recently partnered with Prada to launch the "Adidas for Prada Re-Nylon" NFT project.