The Arch Of Peace in Milan is the first monument worldwide to enter the metaverse.
30 December 2021, 31 December 2021, and 1 January 2022, the international collective Ouchhh, a global creative new media studio based in Istanbul, covered the Arch of Peace in Milan of an innovative data sculpture at 360 °, transforming one of Milan's most symbolic monuments into an interactive experience.
Through a constant rotation of images generated by artificial intelligence, the AI Dataportal_Arch of Light has affixed a second skin to the Arch of Peace.
On this occasion, the artists created an artificial intelligence capable of reinterpreting and reviving over 20,000 pieces of art produced by over 320 artists from various artistic periods, from Byzantine art to contemporary Italian art.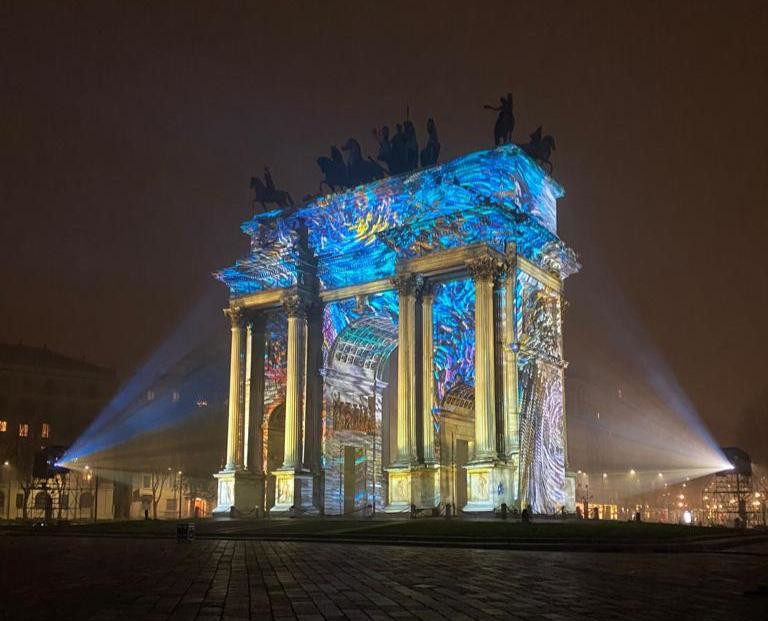 The work AI Dataportal_Arch of Light, which includes a VR experience, will become an NFT: the Arch of Peace will therefore be the first monument in the world ever to enter the Metaverse. A new Italian start-up company called Reasoned Art, dedicated to crypto art and actively utilizing Blockchain technology, is set to make this happen.
"The proceeds from the NFT enhancement activity will support the creation of a research center that unites the world of art, science, and technology by promoting education and training courses for artists, curators, and critics," he said. Giulio Bozzo, CEO & Founder di Reasoned Art.