AC Milan has announced the launch of its first official NFT initiative, which will see the Club sell a limited-edition 3D NFT of a unique Rossoneri jersey from South Sudan in collaboration with Fansea.
AC Milan NFT project
The NFT project comprises 75,817 certified pieces of digital memorabilia – a number that represents the capacity of the San Siro stadium.
The NFTs will be available starting from 14 April on the following website: acmilan.fansea.io. The special 3D NFT will then be accessible on the Fansea app once it launches on 29 April.
The 3D NFT, created by Fansea using modern and sustainable technology, will cost €45.
Proceeds from the NFT sale will go to Fondazione Milan to support its charitable initiatives across the globe, including its efforts to help alleviate the ongoing humanitarian crisis in Ukraine.
Thanks to AC Milan's partner BitMEX, which has committed to contribute to the project by making a donation to Fondazione Milan through the purchase of a large number of the special NFT, the first 10,000 fans to pre-order the NFT will also receive an additional benefit, which allows users to get trading discounts and other benefits on BitMEX.com.
The story of the AC Milan jersey from South Sudan
The jersey, from the 2016/17 season, was discovered by Danish war photographer Jan Grarup during a trip to South Sudan to document the effects of the severe floods in the country.
In the village of Canal, on the Nile river, Grarup met a young boy wearing an AC Milan jersey that had been mended and reassembled several times. After seeing the passion and affection showed in the jersey he deemed a "work of art," Grarup, an AC Milan supporter, asked the boy if he could swap it for a new one.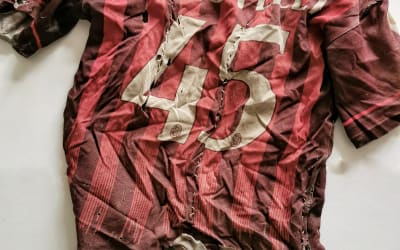 The jersey was then donated to the Club, which ultimately put it on display in the Mondo Milan Museum at Casa Milan – the Rossoneri's HQ in Milan – in a new exhibition dedicated to the educational and social projects implemented by Fondazione Milan.